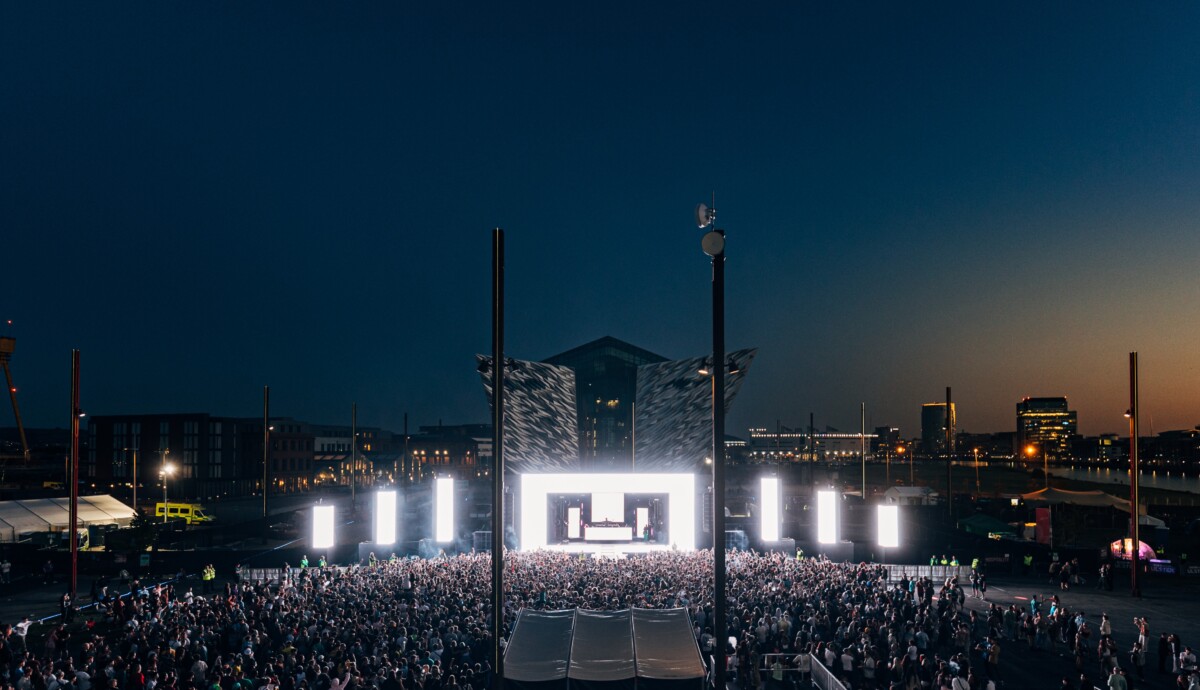 AVA is an Audio Visual Arts Festival & Conference that celebrates, amplifies and develops electronic music, visual art and immersive technology. Since 2015, AVA has hosted over 100 events and festivals, streamed to over 25 million people worldwide and nutured hundred of artists through conferences, now London's leading Electronic Music Conference. The AVA team specialises in curation, installations, workshops and producing cutting-edge live events. Named 'one of the world's most exciting electronic festivals' by Mixmag in 2022, AVA has been described by The Independent as a 'Cultural Catalyst', by the Irish Times as 'Ireland's Most Innovative Electronic Music Festival' and by the Guardian as 'One of the Top Ten City Music Festivals in the UK'.
Since launching in 2015, AVA's main Festival and Conference in Belfast has grown year on year, along with a programme of international showcases, including Mumbai, Amsterdam, London, Manchester and Dublin.



AVA Belfast encompasses a conference, arts exhibition, installations and an outdoor multi-stage festival, showcasing the very best that electronic and irish visual arts has to offer to the legendary Irish crowd.
One of Europe's smartest young festivals

Resident Advisor
AVA London is a space for innovation in electronic music. The programme is aimed industry, leading talent, and music enthusiasts. The aim is to give a platform to discuss music and art, the creative process, the current landscape, inspirational learning, as well as a connection to the epicentre of electronic music.
Previous Artists BICEP / JON HOPKINS / BIIG PIIG / ORBITAL / LAURENT GARNIER / LARRY HEARD / MURA MASA / DJ KOZE / MARIBOU STATE / HONEY DIJON / JEFF MILLS / PEGGY GOU / THE BLESSED MADONNA / FLOORPLAN / OVERMONO / GEMMA DUNLEAVY / BEN UFO / Motor City Drum Ensemble / KiNK / Floorplan / DVS1 / Helena Hauff / Job Jobse / Rodhad / Ejeca / Mano Le Tough / Fatima Yamaha / Midland / Optimo / Denis Sulta / Hunee / Mall Grab / Paula Temple / Overmono / Rebekah / Sunil Sharpe / Jayda G / or:la / Space Dimension Controller / Hammer / Saoirse / Moxie / Sassy J / Timmy Stewart / Kessler / Aby Coulibaly / Kojaque / Emby / Jordan Nocturne / Holly Lester / Timmy Stewart / Peach / Joy Orbison / Sally C / Cromby / DJ Boneyard / KI/KI / Object Blue / Carista / Cailín / Courtesy
Our mission is to push the boundaries of electronic music & art, the boundaries of what is possible both inside and outside of major cities, the boundaries of what a festival & conference can give back to its audience.